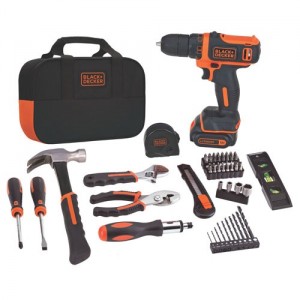 So, now that summer is almost here, I would highly recommend using the good weather to do some projects. Of course, you need tools to do projects, and I would recommend the Black and Decker 12V MAX Cordless Lithium Drill/Driver Project Kit.
First of all, the big selling point is the 12 Volt Max Lithium drill with a battery that holds a charge up to 18 months. Considering that I had to repair my porch the other day and needed an electric screwdriver, I wish I had this one instead of borrowing my neighbhor's.
In addition to the drill, it has quite a few bits that you can see in the image here. I won't bother giving you the sizes and specifications. For those that want something more manual, it also comes with a Philips and flathead screwdriver. Then there is the crescent wrench, pliers, hammer, cutting knife, level, and measuring tape. It all comes with a handy carrying case where all of the tools can fit.
In short, I'm going to recommend this as a gift for Mother's Day. That's right, Mother's Day. What, you think I should be traditional and just recommend it for Father's Day? That would be far too predictable, but it is good enough for a man or a woman.
You should be able get this item at all kinds of stores like Wal-Mart for about $89.99.