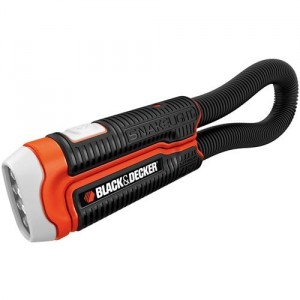 I'm pretty certain that most of you are aware are the Snakelight from Black and Decker. I remember when they introduced it in the early nineties, and consumers loved the idea of wrapping a light around something to keep it in place.
I seem to remember the first model being green, and I am not certain what version this particular one is. It also used to be that you had to use a special battery to power the Snakelight, this one has a cord to plug into the wall to recharge the built-in 4 Volt power source.
This Snakelight is definitely very powerful with very ultra bright LEDs, and it can hold charge for (believe it or not) 18 months. It has about five hours of runtime, so the brightness will be on for a while.
So here's the deal. I couldn't find the Black and Decker Snakelight on the official site, but I was able to find it on Amazon for about $41.25.