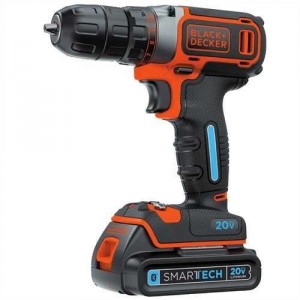 I had a chance to try out the 12V Max Cordless Lithium Drill from Black and Decker, and I have to say that this SMARTECH 20V MAX Lithium Drill/Driver is a step up, made for the mobile age.
The 20V MAX Lithium Drill/Driver is a connected tool, which uses its SMARTECH batteries to locate, lock, and monitor tools. It uses a SMARTECH application for iOS and Android for Bluetooth controls in order to remote battery locking and unlocking.
It also has one of those battery locate functions, because we all need our smartphones to find our things now. Seriously, I have reviewed three products this year that help you find your keys, and I'm too lazy to put the hyperlinks here.
Also, you know how you use your cordless drill, and there usually isn't an indicator of how much juice is actually really in the battery? Yeah, you know that is a problem. However, the smartphone app will give you the battery indicator.
So yes, this is a terrific product and it is a keyless chuck for easy removing of bits. Oh, and I don't know if this is stealing a page form Apple's playbook, but there is "One More Thing".
This battery for the drill can also be a battery for devices. Just connect a USB cord to it, and you can get some extra juice for your smartphone, MP3 player, and more. Oh my gosh, this is great.
My gosh, this is good! You can get it on sites like Amazon for $74.99.