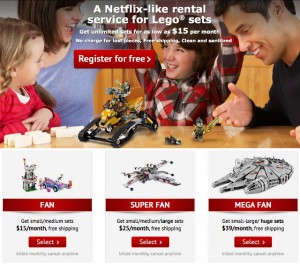 I think I have seen several sources call Pleygo "the Netflix for LEGO sets", and I guess this is as good of a description as any. I think that the existence of Pleygo shows the typical consumer's use for Lego.
That is, most Lego users, who are usually kids, like to open the set, put the model together, and that is about it. It is similar to the way we watch a movie: we watch it, and for the most part, not watch it again unless it is really something special.
So the user signs up to get a Lego set, then when he or she is finished, he or she sends it back. Then the next set comes on the queue, and you can get the Fan (250 sets for $15 a month), Super Fan (500 piece sets for $25 a month) and Mega (but not Mega Blocks) Fan (up to 5,400 piece sets for $39 a month).
Just to let you know, these Lego sets are washed in between users. For me, I would like this deal but I love keeping Lego around. Plus I also know that the joy of Lego isn't building something according to instructions, but merging several sets to build something even greater than what was originally intended.