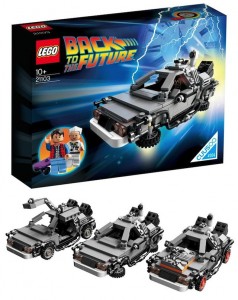 I don't know if you are familiar with Lego Cuusoo, but it is a site devoted to showing off Lego creations. Some of them get voted on, and become official toys for the number one building block company.
Such was the case for the Back To The Future collection, and you can see the iconic time-traveling Delorean from all three movies. It looks like they have three separate models, because it got a serious flight upgrade in the second film, and then a steampunk downgrade in the third film.
My Source shows the Mary and Doc minifigs, and it really makes Marty's coat look like a life preserver. I will have to say that it is difficult to model a Delorean in Lego, given the shape of it.
Now, are there plans for the steam-powered locomotive at the end of the last film? I hope so. Even though it is a little far-fetched, I always liked it in principle.