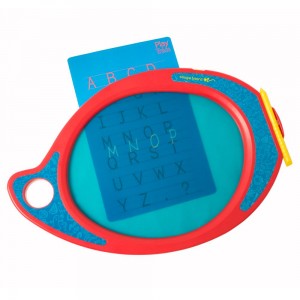 Well, I mentioned in my review of the Wacom Bamboo Spark how it is really necessary for us to really just draw things out, and sometimes the digital easel actually makes this more difficult. I once talked about the Boogie Board Play n Trace at its initial release, but it is that for kids, but less technical.
This is from Boogie Board, the same company that made the Sync 9.7. This company must believe in drawing and writing on things, as most of their products involve this.
In the case of the Boogie Board, it is a transparent screen that you can write on. It is definitely designed for younger hands, and it comes with some templates to help little ones make letters. As you can see, it has a small hole to hold the device like an artist's pallet, and you can write over things and draw over them as well. When you are done drawing, you just push a button to erase.
Yeah, this is probably going to be some toy that every kid has from their childhood and probably should. This is all powered by AAA batteries, and there is a Free iPad app designed to help along.
The Boogie Board Play n' Trace is available on the Boogie Board site for $34.99, and there are some Accessory Packs available for about $14.99 each.