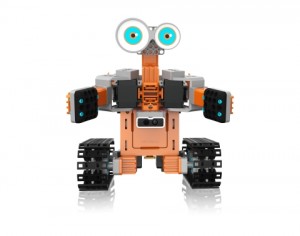 In case you are wondering, this is a sequel review to our review of the Buzzbot and Muttbot. This is the same robot building kit from Jimu Robot from UBTECH, and you can read my review of that at the link, as well as my comparison to Lego.
The Tankbot is one of those robot kits where I am surprised that all the pieces that are in the kit are used, with only a few exceptions. Generally, the Lego collections allow for more than one creation. In the case of the Tankbot, what you see is the main thing that you can build, but you can build a lot with it.
Okay, I suppose that I should stop making Lego comparisons. Perhaps I can just get this other comparison out of the way and say that the Tankbot resembles a certain robot who was the star of a Pixar film. I mean, look at the colors of orange and black! I'll spell it out for you: Tankbot is WALL-E.
The Tankbot is not able to crush garbage into little cubes, but he does have some cool tank treads. He can also reach out and grab things. My son and I tried it out and we found that he was quite adept at grabbing soda cans.
Like the Buzzbot/Muttbot, it comes with six servos, which are the small motors used to power certain things. In this case, it can operate both treads individually, which allows the Tankbot to turn on a dime with the remote control.
I have already talked about how the Jimu Robots use an Apple or Android device for Bluetooth wireless control in my last review, but there is something else that the Buzzbot/Muttbot doesn't have. This has an infrared sensor that allows the Tankbot to pick up, detect, and maneuver objects around it. It is possible to program this, but I have to admit that I didn't spend a lot of time doing this. My son seemed to take it on and was getting used to it in minutes.
Yes, this is one of those STEM toys that will educate kids as well as entertaining them. It is a toy that I will recommend, just like I will recommend the other models. You can get it for about $149.95.
As a holiday bonus, I have an unboxing video here with me and my son! This one addresses the Buzzbot/Muttbot, as well as the Tankbot.