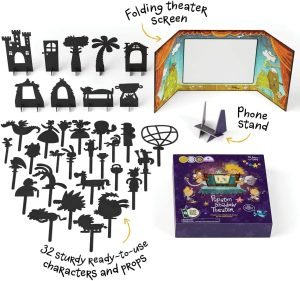 I have to admit, I know very little about Shadow Puppet Theater, but it is very cool, right? I mean, remember that really cool scene with the story of the three brothers in Harry Potter and the Deathly Hollows, Part I? This is the Papaton Shadow Theater, and it has to be one of the most intriguing creative toys ever.
I mean, it is pretty simple. The Papaton Shadow Theater comes with a cool stage set-up, and it is a small cardboard stage. I'll paraphrase what Shakespeare said and say that this stage is going to be your world. Of course, you need to populate the world with Props and Characters, which it comes with.
Then there is an app so you can tell stories, and they are the basic ones, you know, like "The Three Little Pigs", "Little Red Riding Hood", "The Tortoise and the Hare", "The Lion and the Mouse", not to mention any other story that you want to tell.
I mean, if you want to teach your kids to be creative, this is a good way. You can get it on the Papaton site for about $69.99, and it has some expansion packs (for lack of a better word) of The Nutcracker and another one called Little Monsters, each about $29.99.