We're going to do two for the price of one on this particular review, as these two products are very similar. That is, there are some blox, and they both contain a power pack that lights up some blocks. Also, they are compatible with LEGO (I tested it out in case you were curious).
E-Blox Power Blox Review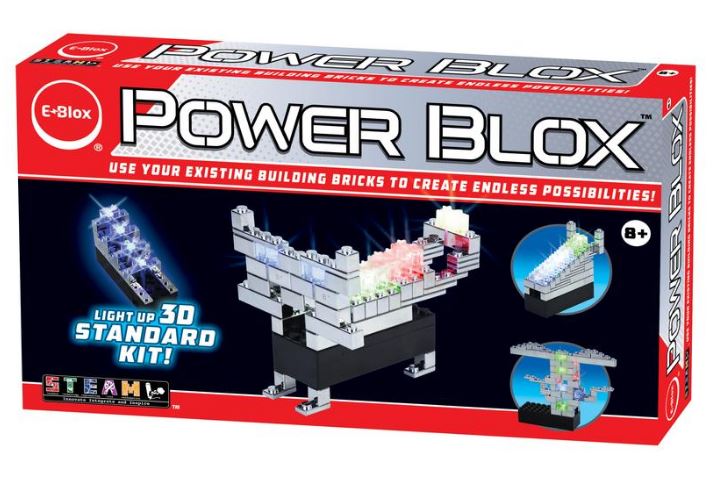 The set that I got here was rather interesting, and it comes with a power pack to make the bricks glow. There are about 2 bricks of red, blue, and green each, and there are one of each color that is flashing. Then there is a color changing brick, so that is about ten different lighted bricks (LEDs) total.
What you can't see is that you will need a 9 Volt battery, and you will have to install it with a tiny Phillips-head screwdriver. This powers the bricks so they can light up, and the set has other bricks that are chrome silver color that form a conductive "wire" for lack of a better word.
This particular set (Model PB-0095) comes with a storage case, and it is kind of like a mini fishing tackle box, only it has the studs on top so you can build things on top. You should be able to purchase this kit for about $60.49 on the E-Blox site.
I should let you know a drawback is that the packaging of the set says that online instructions should be at myeblox.com, but I couldn't find them there.
E-Blox Story Blox Review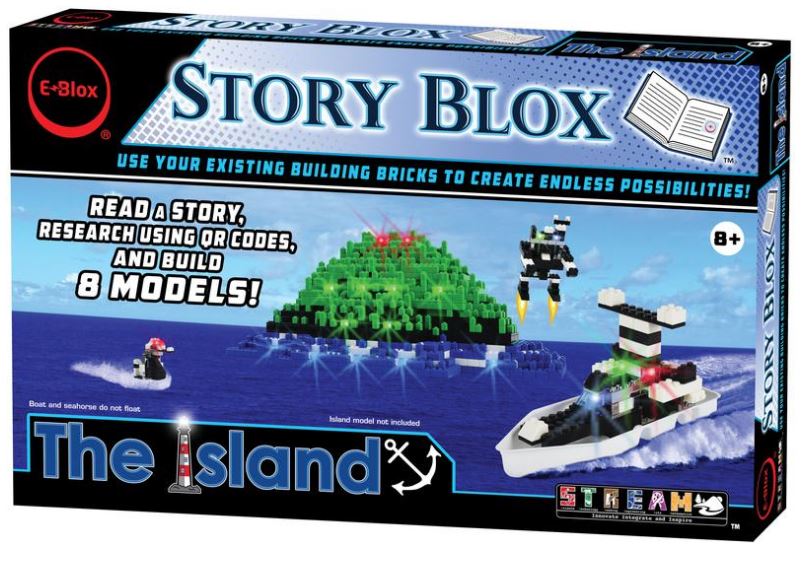 So, this Story Blox also has a power battery and a handfull of conductive bricks so you can light up the LEDs that come with it. I would way that it is no different from the Power Blox set, but this Story Blox set is designed to really make you learn.
This set is called "The Island", because it involves a story where you are on an island, and it comes with an instruction booklet with a storyline where you build things related to the island setting. It has QR codes that you scan and can build stuff.
The stuff is pretty blocky, but it glows. You can see on the box that there is an island that looks straight out of Minecraft. By the way, you can't build that island with the bricks here. Also, the boats and the seahorse made don't float. Also, this boat has a plastic undercarriage that is white on the box, but transparent in reality.
Okay, so that is the reality of the product, but hey, it does work with LEGO and can bring projects more to life, and tomorrow, I'm reviewing another E-Blox product. The Island set is available on the E-Blox site for $54.99.