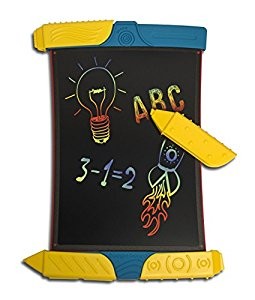 You might be familiar with Boogie Board as they make these eWriters. They are not the eReaders like a Kindle, but something that you can write on electronically. While it may not be the Sync that allows you to save something, the Scribble n Play is definitely made for a younger audience.
You should be able to write or draw on the Scribble n Play with anything like your fingernail, and it leaves a rainbow trace. I didn't know how to describe it any better than that. By the way, your drawing can be erased at the touch of a button.
If you want to save your drawing, there is an eWriter app that is available only for Apple products. You can save your creation, and upload it to the cloud, sharing it with everyone. I checked, and I couldn't find it on Google Play.
Of course, you don't want to use your fingernail when drawing on this, so it is fortunate that it comes with four styluses. These are the yellow things that fit on the sides of the Scribble n Play, and they have four different points. One is a small point like a Sharpie, the other is a Magic Marker, another is a like a small comb, and the last is a wide tip.
The only downside is this: I found out that the styluses have these side marks, but they don't really do anything. Like they have these waves, but if you press them on the board, they don't make waves. You're going to have to try it out to see.
The Boogie Board Scribble n Play has this rubber blue band so you can strap it to your hand, which is another great feature. If you have someone who has young hands, or you just need something to scribble on, then the Boogie Board Scribble n Play is for you, and it can be purchased for $34.99 on the Boogie Board site.