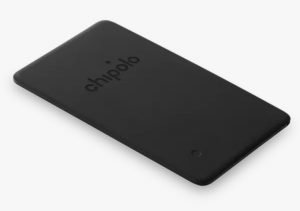 So, we have recently reviewed some tracking devices with the Rinex devices, and now we will discuss a company that we have discussed before: Chipolo.
By now, you know how these things work. You have this little fob with a button that allows you to find your phone, or the phone helps you find the fob. This particular Chipolo CARD Spot uses the Find My app to find your wallet, and you stick in this 2.4 mm device into where the credit cards go.
As you can see, it is a flat thing that will play the sound. It also has a locate function as well, not to mention a notification option.
The sound that it makes is up to 105 dB, and it has a long battery life of up to two years. By the way, it is IPXS rated, just in case your wallet gets all wet.
If you want to get in on this, head on over to the Chipolo site and pay $35 for one, and $60 for two.