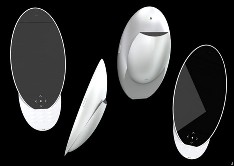 Here's a little phone of the future for today. It is a phone that stays on the tabletop, and then it will turn toward you and nod when you receive a phone call.
This concept phone, designed by Mac Funamizu, is perfect for those offices that are always flurry with ringing phones.
Well, we'll see if this one is the wave of the future.