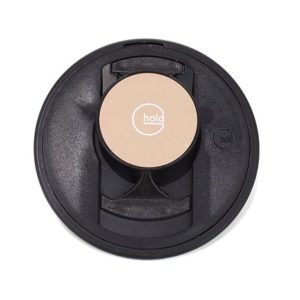 If you have a tablet, you know that it can be cumbersome to hold after a while. Are you looking for something that will help you securely get a grip on things? The item we are reviewing today might be that thing.
The G-Hold Tablet Holder with Velcro® Brand was a Kickstarter project by an inventor in Scotland named Alison Grieve. The G-Hold is kind of like a PopSocket, but big for tablets. Its ergonomic design helps users avoid the strain and awkwardness of holding their tablets in their hands. It sits ergonomically between your first two fingers, and can be rotated fully. The G-Hold securely attaches to your device with a strong adhesive, and Velcro. When not in use, the G-Hold pops flat into it's base, so you can put it in a sleeve or case without any trouble.
Alison's product has benefited from partnership programs with Amazon, Microsoft, Panasonic, Apple, HSN, QVC and more. Apple and Microsoft both have endorsed the G-Hold, so you know that it is a good product to pair with an i-Pad. Here's a video showcasing what it can do.
You can purchase this product in many different colors from sites like Amazon, WalMart, and Best Buy for $29.95.
We received this product for free for purposes of our fair and unbiased review. No other compensation was given, and we are not sponsored by this company.