Cyclists know(or they should know) that riding a bike isn't much different than driving a car when following the rules of the road. Cyclists should signal and let other drivers know what their plans are in order to avoid becoming road kill. Arm/hand signals aren't always the most visible way to get the point across. The product we're about to review was introduced to TechnoMark at CES. It is a good solution to the issues that cyclists might face- especially at night.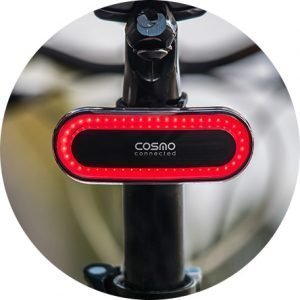 This product was originally a KickStarter by a French company, and has since gone off as a legit product. This device can either be place on the helmet with various mounting units(depending on your helmet style. A 3M adhesive mount will hold strong to the back of the helmet, and the Cosmo Connected clips on and off to allow for charging, turning on and off, and also can be changed out to other helmets if you purchase more mounts separately.  Or, you could choose to use one of the included mounts to wrap around under your bike seat(as shown in the picture above.
The system uses a three-axis accelerometer and gyro-controlled technology to alert others when you are stopping. A remote control that clips to your handlebars can send the signal when you want to turn. The device is light- only 50 grams, so you will hardly notice it's there.
This is some great technology, but I feel like drivers would need to be trained to watch for this system, and it would definitely be the most useful at night.
Another great feature of the product is the free downloadable app that will connect wirelessly with the device. With the app, you can notify up to 3 emergency contacts when you've been in an accident. This app is found in both the Android and Apple stores as well. You can also check the charge level of the battery, see the distance covered over your current ride, your ride time and your current speed. A map can also be turned on, which shows your current location. The battery in the Cosmo Connected device is 900 mAh, and a fully charged battery lasts about 2 1/2 hours. You charge it with the included micro USB cord.
All-in-all, I would say this could be a useful product. It costs $69 US dollars currently through their website at the time of this writing.  Although we received this product free for the purposes of our review. No other compensation has been given to sway our fair and unbiased analysis.