Today we have the opportunity to review a couple of small items that will be helpful for those with iPhones. These items back-up files and transfer them securely and easily on the go. SunProtected is the name of the company that makes these items- the iLink Backup and the iSecure Adapter.
iLink Backup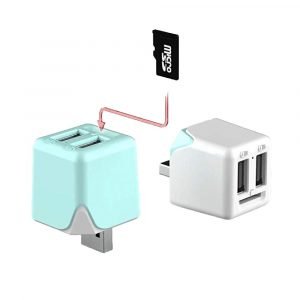 The lightweight(19g), 4.2 x 3 x 2.8 cm adapter will give you a new way to back up your iPhone or iPad data.. There is a USB port for a USB flash drive, a 2nd port for plugging in a USB to Lightning cable(yes, you can charge your phone while backing up data), and a Micro SD slot. On the backside, there is the USB plug so you could stick it into your laptop or other computer with USB slot. A free iLink Backup app is available in the app store(iOs 10.0 or later needed). The app you download to your PC can be used to encrypt or decrypt your files in case you have something you need to keep secure.
The device we were sent to review is the single one, and costs $59.99. There is a Dual one for $10 more, and it will supposedly charge two devices at once.
iSecure Adapter

This item is a little different, but similarly backs up and transfers files. You can also plug in a USB flash drive or micro SD card. It weighs 19 grams-  just like the iLink backup, but it's shaped a bit differently, and it comes with an actual lightning cord that can be folded and stored safely in the accessory when not in use.
This one also has an app to use. You can protect your important files with the AES-256 bit cryptography chip built in. This is military grade protection! This one costs $79.99 when you buy it on Amazon.
These products were sent to us by SunProtect for free in exchange for our fair and unbiased review. No other compensation has been given, and we are not sponsored by this company.
TechnoMark's video review of these products will appear here soon!