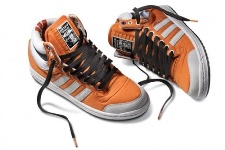 Clearly, Adidas has now become an acronym for "All day I Dream about StarWars". Granted, I had to make Star Wars one word in order for that to work, and I won't tell you the original version of that acronym (because you probably already know it).
For some reason, and let's just say that it's money, Adidas went and made themselves some Star Wars shoes. They come in four designs that include X-wing pilot (see above in lovely orange), gray Tie Fighter, white X-wing, and a weird color for Princess Leia.
Get them wherever shoes are sold, and be prepared to give George Lucas his cut.