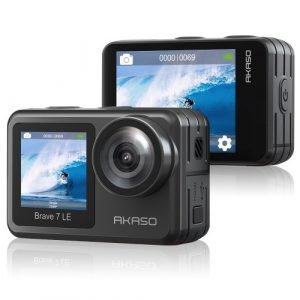 I realize that most of us might want to take pics and vids on our smartphones, but for those that have a bit more active or extreme lifestyles, you might want to get a Go–I mean, an AKASO Brave 7 LE Action Camera. (Yeah, I can't help but compare this action camera to a more and possibly most popular action camera, but I'll try to keep the comparisons to a minimum.)
The AKASO Brave 7 LE has an IPX7 water resistant body made for all weather of recording. However, if that is not enough for you, the Brave 7 LE comes with this waterproof case for all kinds of in water and some underwater uses.
Now, I have to admit that I didn't expect to see this feature on the AKASO Brave 7 LE, but not only is there a screen on the back of this action camera, but on the front of it, too. I actually had an issue when I checked it out the first time, but there was a button on top that could toggle it.
I am told that this guy has a 6-axis gyroscope that can correct vibrations when moving fast. I have some footage of something that I took out of the box, and it is something that I held with my hand. I hope you can forgive the sounds of it shifting around, and I really should have properly mounted it. By the way, this comes with a lot of mounts.
There are a lot of options for shooting, by the way. It's got 4K30fps/1080P60fps videos, and 20 MP photos. All you need to do is provide an SD card, which I had a hard time finding the slot for. In case you miss it, it is located in the place where you put the battery. Oh, while I am on the subject of the battery, it has a charging cradle with two batteries. That way, if one is failing you, you just replace it.
Other features are built-in Wi-Fi, not to mention some HDMI support. There is also this interesting remote control that you can wear on your arm for when you want a little hands-free action.
The AKASO Brave 7 LE is available on the AKASO website, and on Amazon for $139.99.