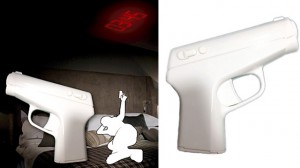 If you have any fantasy about living in such a way that you need to keep a gun under your pillow like James Bond, then you might like this alarm clock gun.
This kit has a vibrating alarm clock to buzz under the pillow to wake you up. I am not certain where the projection is, but it looks like you stop the buzzing by "shooting" it off.
In case you are worried about violent video games encouraging violent behavior, you might want to consider what kind of behavior this device will foster.
The Secret Agent Projection Alarm Clock is not presently available at the Latest Buy catalog now, but you can pre-order it here for about $31.15.