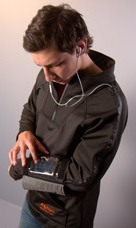 I think it is interesting that we have mobile devices, but our clothes do not accommodate for them. After all, most pockets of jeans would not fit a phablet. Suddenly a company named Alphyn Industries comes along with a whole slough of products made for the mobile phone revolution.
Alphyn has clothes like the SOMA-1 Wearcom pullover, which has a transparent pocket made for a smartphone. I am told that you can use the smartphone like it is a big watch on your long sleeve.
Now let's talk about the PADX-1 ledge. This one puts an iPad in front of you like a kangaroo, just where you need it!
Then there is the Delta 415, the "smartphone jeans". These particular pants have a transparent pocket that also allow the user to interact with the smartphone. This is a feature that you should probably use sitting down.
I have a video from my Source after the jump. You can also check out their website here for more information.