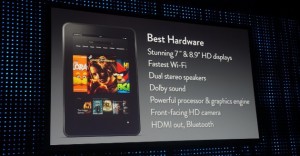 Since I am a big fan of Amazon's Kindle Fire (as I wrote a book on the first tablet), I knew that it was only a matter of time before Amazon made a sequel.
Today, the company made a big announcement in Santa Monica that they are coming out with not one, but four new versions of their tablet. They are called the Kindle Fire HD, and they come in 7-inch (original size) and 8.9 inch versions. The display will apparently kill 25 percent of the glare one normally sees on their tablet. They also come with a screen with 1920 x 1200 resolution, 16GB of memory storage, and front-facing high resolution cameras.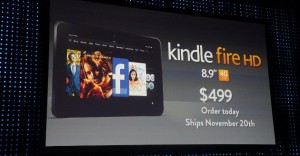 There is also another type of Kindle Fire that has 4G LTE connectivity. Considering that the first Kindle Fire was more reader than tablet, it looks like the company wants to offer a fully connected model packed with 32GB (more than five times the memory of the original model).
Still not content with only that, Amazon also intends to supercharge the original model of the Kndle and increase its battery life by 40 percent and upgrade its processor as well.
Then there is the Paperwhite, an e-reader that will have some patented backlight technology for the first time. It has a cool and long battery life of 8 weeks, and is thin at 9.1mm and weighs in at 7.5 ounces.
You should be able to purchase a Wi-Fi only Paperwhite for $119 and a 3G model for $179 on October 1. As for the 7-inch Fire HD, it ships on September 14th for a price of $199. The 8.9-inch version ships November 20 for a price of $299. The Kindle Fire HD with built-in 4G ships on November 20th for a price of $499.
Okay, I believe the Kindle Fire was Apple's competition for the iPad. It was doing all right, but now should Apple be worried?