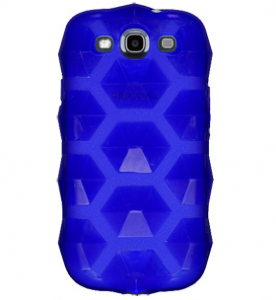 I don't know if you have heard of Amzer, but they have created all sorts of accessories for smartphones, tablets, and all kinds of mobile devices. I figured that I had to visit them in CES, and I decided to spotlight a few of their products.
I'll start with Amzer's Hexagon high Gloss TPU Soft Gel Blue Skin Case. It has a flexible skin with a hexgonal pattern for a better grip and some good protection. You can pick it up here in red or blue for a low price of $6.95.
Now it is time to talk about the iPhone 5. I'll start with the Red Snap On Case, a rubberized shell case with a hole for the Apple logo. You can get it on the Amzer site here for $10.95.
The next is the Shellster, which has a shell case and a clip stand holster. It also has a 180 degree swiveling belt clip that the website says can be used as some media display. However, I don't see it working very well. You can get it here for about $14.95.
The last is this Hybrid Belt Clip for the iPhone 4/4S. This particular one is a soft polymer bumper case that has a hard polycarbonate belt clip that works as a credit card holder. I have been seeing a lot of clips like these, and it is available here for $12.95.