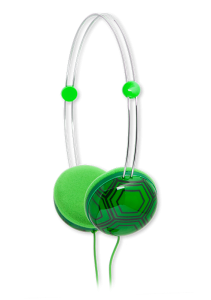 I think we are all aware that our children live in their own world with their headphones on. As a parent, we should probably be concerned about this. Fortunately, iFrogz has headphones for the occasion.
The new iFrogz Animatone Over-Ear Headphones have the over-the-ear look of DJ headphones, but the cool decor for younger users.
I am trying them out right now, and I must admit that they do not fit a head of my size. Of course, they are not supposed to. They are also not supposed to be too loud.
I suppose this is odd to me, because normally my reviews of headphones like the Custom One Pro from Beyerdyanmic and the HDJ-1500 from Pioneer, my highest praise is about how loud they are. These are not permitted to go any higher that 85 decibels, so little ears will not suffer unnecessarily.
If this is something that you might be interested in, you can get the Animatone headphones from the iFrogz site in Turtle shell green, ladybug black and red, and spiral wave blue for about $24.99.