Our gadgets can sometimes anchor us to the indoors with all the charging that needs to be done. We've done many reviews of Anker products. This company is known as a leader in charging. For those who need portable power when they go camping, or in case of a power outage, these Powerhouse power supply products by Anker will keep you going!
Anker Powerhouse 200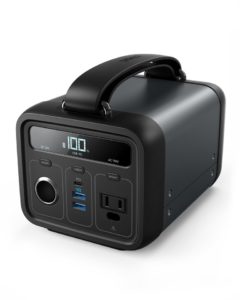 This 200Wh/57600mAh portable rechargeable generator will provide hours of charging for just about anything. You can charge this for between six to eight hours to get a full charge, and then get up to around 12 times of charging a smart phone, for example. Multiple devices can be charged simultaneously as well.
Not as portable as a smaller charger, but lighter than other generators, it weighs about 5 pounds.  7.5 x 5.5 x 7.7 inches makes it a decent size to carry to the beach or your campsite.
Features of the 200 model
An AC adapter plugs into the back of the generator. The front has an LED panel that tells you how much battery remains, and where the battery is while recharging. Below the panel are the various output ports including a DC output, 2 USB output ports, and an AC output port. There's also a power delivery port, which you could use to charge with a micro USB cord(not included). If you are outdoors, you can get even more juice to your device by plugging a solar panel in(also not included). Each output section has a power on/off button which needs to be engaged or disengaged as there is not an automatic shut-off. A plastic handle makes it easy to carry around.
This model costs about $349. If you need a little more power, you could go with this
Anker Powerhouse 400Wh / 120000mAh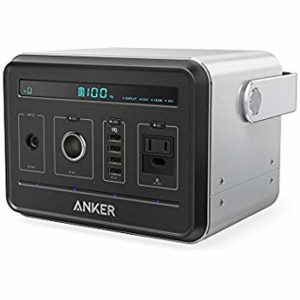 Similar to the 200, but obviously bigger(nearly 10 lbs), this one has more charging capabilities. A phone can be charged up to 40 times, for example. If you are out camping with a CPAP, it can be powered up to 4 times with 7 to 8 hours of use. The output modes on the 400 are a 12V car socket, an 110V AC outlet (for devices up to 120W) and 4 fast-charging USB ports. Rubber feet on the bottom of this model makes it more secure.
In the Box
This one comes with a 10 ft AC adapter, a 2 ft Micro USB charging cable, and a 1.3 ft solar charging cable. Unfortunately, the solar panel is not included. Both items come with an 18 month warranty.
At $499, this Powerhouse is definitely pricey, but it's a valuable asset for those who want to be prepared for emergencies or for camping trips. They are better than regular generators that are loud and use up gas. Many campgrounds will have a ban on generators after a certain time because of the noise- making these ideal. I would really love to see a solar panel included with these Powerhouses.
Thanks to Anker for sending us these products to try out. No other compensation has been given for our fair and unbiased review. If you but through our Amazon Affiliate links, you can help support our site.