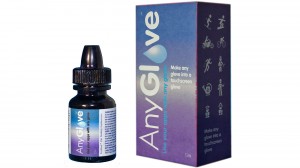 Now that we are in wintertime in my section of the world, it gets harder to use touchscreen devices when you are wearing gloves.
I have seen some solutions to this problems that involve special gloves the like the Agloves. This AnyGlove is a liquid that is able to turn any glove into a touchscreen sensitive conductor.
All that you need to do is put a few drops on the fingers, and it should not stain darker materials. According to my Source, it might stain lighter colored fabrics or yarns, and it might require some reapplying every few days.
I have no idea how this will work, or if it will work well. Sometimes my Agloves fail me, and I cannot imagine that the AnyGloves might have their setbacks. It only costs about $15, and it might be worth the risk.