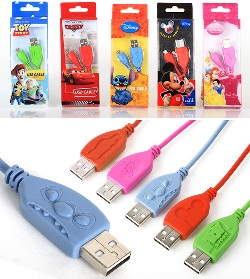 Okay, let's take a poll. How many USB to mini-USB cables do you have?
I think I have one for my camera, and a few for other devices. Not all of them are compatible, but usually the mini-USB is standard.
So why not have Disney versions of these cables? Perhaps the better question is "why", and the best answer is "because we're Disney, and we want to sell some stuff".
Well, if you want to donate $7 to the House of Mouse, you can get versions of them that include Toy Story, Cars, Stitch, Mickey Mouse, and those inevitable Disney Princesses.