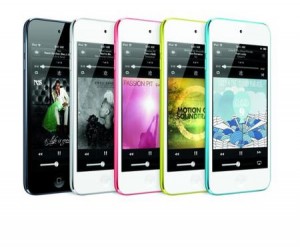 Apparently, I was so excited at the announcement of the iPhone 5 yesterday that I forgot that Apple also has a new iPod Touch and iPod nano. I'll be honest with you. I sort of pulled an all-nighter the night before, and woke up at noon and reported on the iPhone 5, without seeing what else Apple had.
What you are seeing here to the left is the fifth generation of iPod Touch. Like the new iPhone, this iPod touch is the thinnest. It will also have a 4-inch Retina display. It doesn't have an A6 processor of the iPhone 5, but it will have an A5 chip. As for the camera, it will have a 5 Megapixel iSight camera capable of 1080p HD video recording. You will also have Siri and the new iOS 6.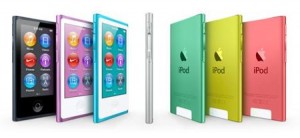 As for the new iPod nano seen to the right, and it is even thinner than the iPhone 5 or the iPod Touch at 5 mm. The display is at 2.5 inches, and it is a Multi-touch display capable of navigating your music easier. There is also a convenient "home" button, as well as easy-to-use buttons for volume control, play, pause, and changing songs. The iPod nano also has built-in Bluetooth for wireless listening, as well as a longer battery life of 30 hours.
As for the price and release date, the iPod Touch 5G will be in 32GB and 64GB for prices of $299 and $399, respectively. It will be out in October in colors of pink, yellow, blue, white, silver, black, and slate colors. As for the iPod nano, it will also be out in October with 16GB of memory for $149 in colors of pink, yellow, blue, green, purple, silver and slate.