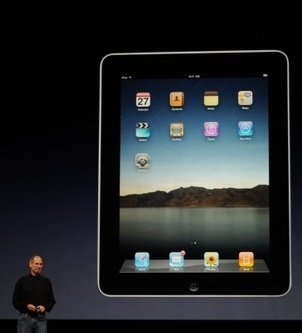 I would be remiss in my duties here on The Geek Church if I didn't report on this, but honestly, there probably isn't anything in here that you don't know already. A few hours ago, Steve Jobs stood up at the Yerba Buena Center for the Arts and announced the iPad, Apple's long-awaited tablet.
The Tablet has a multitouch screen that is 9.7 inches (on the diagonal) with 1024 x 728 resolution. It has 802.11 n WiFi, Bluetooth 2.1, speaker, microphone, built-in accelerometer and a compass. It also the first device to use a unique Apple A4 Processor. The battery life has been reported at ten hours of constant use. Whoa!
It has a screen that will rotate depending on which way you hold it. Just think of it as a big iPhone or iPod Touch. In fact, most people are thinking that already. The touchpad keyboard is about the size of a regular keyboard, which will definitely come in handy.
As for the price, that is depending on what you want. With Wifi, it is $499 for 16GB, $599 for 32GB, and $699 for 64GB. It costs a tad more with WiFi and 3G as it is $629 for 16GB, $729 for 32GB, and $829 for 64GB. Apple promises to ship them in 60 days, so it is probably going to take a while for it to get to you.