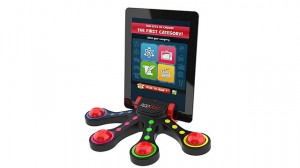 I have seen some interesting iPad accessories that look like they can be used on gameshows. For example, the Duo Pop from Discovery Bay Games.
The AppQuiz iPad accessory is much like the DuoPop, but the buttons are not wireless. As you can see, this octopus-shaped thing puts the iPad in the center, while up to four contestants hit the buttons to answer questions.
There is a free application that features a game show host appropriately called Chuck Boldhart. I can just imagine how someone with that name would speak.
You should be able to pick up the AppQuiz for about $48, and yes, it is compatible with the iPhone.