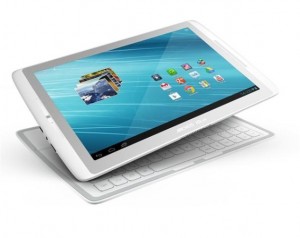 I always like to see what ARCHOS is up to, and they make some pretty cool Android tablets in the past few years.
They recently announced the Gen10 XS tablet line which features the tablet that you see here with the ARCHOS 101 XS. It is a 10.1 inch tablet that is less than a third of an inch thin and weighs 21 ounces.
I'm going to get the internal specs out of the way so I can skip to the prime feature. It has a dual-core TI OMAP-4470 prcoessor and runs Ice Cream Sandwich.
Now for what I really want to report about. The 101 XS includes a unique Coverboard a magnetic keyboard that serves to protect the screen and works as a kickstand as well. Man, do I love the idea of being able to type on a tablet, and easily transport the keyboard with me.
The 101 XS should arrive in November with a price at about $400. I would love to see how it compares to Microsoft's Surface.