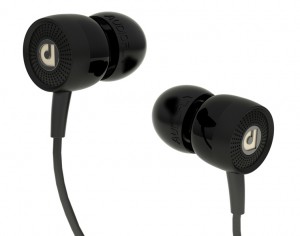 I have had some experience with AudioFly before, and I had a chance to try out the AF33M earbuds some time around CES last year. I felt good about AudioFly since I first saw them (or should I say heard them), and I had a chance to try AF45.
Normally, I use some pair of low-priced earbuds when I listen to things on my computer. The moment I plugged in the AF45, I could hear the clarity. It has a 11mm driver that has "balanced bass, round mids, and crisp high end for incredible definition". Yes, I did steal that from the company website, but you will have to try it out to experience it for yourself.
The cable doesn't feel rubbery, but it is a braided cable with Kevlar reinforced conductors, and a fabric outer sheath known as a CORDURATM. I have no idea if this is an acronym for something.
In case you were wondering why Audiofly is so well-made, it has to do with it being "designed in Australia by musicians". If you want to get in on this AF45 action, you can find it in many places at an average price of $59.95. You can find out more about it on the Audiofly AF45 on the Audiofly website here.