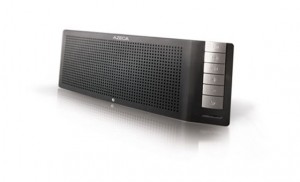 I seem to have a lot of recent experience with reviewing Bluetooth speakers for audio and communication. I could easily just copy/paste my review of the Spracht Blunote + Chat wireless speaker, but hey, even Thanksgiving dinner won't make me that lazy.
I was pleased to review Azeca's Lightweight Bluetooth Speaker, which has 9 watts of power. I am beginning to enjoy how easy it is to pair these Bluetooth speakers, and I enjoyed the amount of sound that this one can put out. Of course, it comes with the standard 3.5 mm cable jack in case you don't want to go the wireless route.
However, if you do want to go wireless, and you want something to answer your phone calls, the Azeca Lightweight Bluetooth Speaker will do that. It has a a button to talk hands free with a built-in microphone. It will do the automatic stopping of music with a phone call, and resume when there is a hang-up. Music controls of next/previous track and pause are on the device itself along with the volume.
If you are looking for something that uses battery power, this also has it, although you will need 6 AAs. I found this on Amazon for about $79.72, which is a good deal, and you can find out more info on it here if you are considering purchasing it before the holiday season.
You should check out Azeca's other products like the Stereo Bluetooth Folding headset and the Clip-On Bluetooth Headset with retractable earbud.