In a good portion of the United States, this item is not really functional or practical. These frozen grounds will hopefully be ready for working before we know it, though. This item we're about to review will make a great gift for the gardener in your life. This is the B-hyve Smart Hose Faucet Timer from Orbit Irrigation.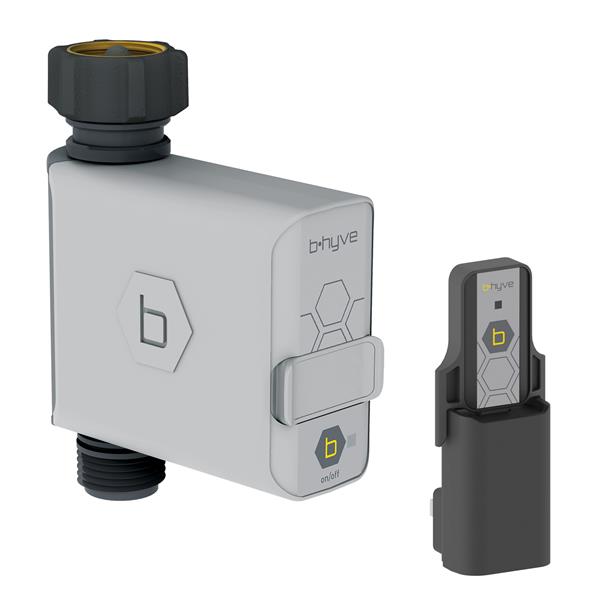 This is a new kind of product to us- different from what we've typically reviewed. It is a great example of how technology can help in every day life.
How it Works
The B-hyve Smart Hose Faucet Timer hooks up between the water spigot and the hose. A free iOS or Android B-hyve app downloaded will allow your to program your timer easily. More than one timer can be set up in order to set different zones. The timers network together and boost the signal strength.
Smart sensors on the timers will automatically prevent this device from watering in the rain, and will give you exactly what you need where you need it. You can water your plants smartly based on factors such as sun/shade, soil type, and weather. Also, you can water from anywhere. There's no need to have someone take care of your lawn while you are away.
Other Great Things About the B-hyve
The B-hyve can tell you how much water you are using, and in turn, you will be able to save money. You could also qualify for rebates from your water company. The timer can be controlled manually- even without the app set up. If you have an Amazon Alexa, you can control your system with your voice.  It has a durable build, and the customer assistance with this company is well-done.
Want to Purchase the B-hyve?
Currently, this bundle with the Wi-fi hub is available for only $57.47 on Amazon.com. This is a markdown from the retail price of $79.99. You can get extra valves for only about $25.
We would recommend this item for all those who like to garden and be smart with their time and money. Thanks to Orbit Irrigation for sending us a product to review. No other compensation has been given for our honest and fair review.