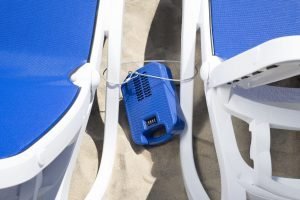 Well, its summer time, and you know what that means, gonna head down to the beach, gonna do some beachy things. Maybe you aren't a fan of that song from Solid Bold (a fictional band from Regular Show), but if you intend to do some beachy things, you might need a Beachsafe.
So what is the Beachsafe? Well, you know how when you go to the beach or to the pool, you have to keep your wallet, keys, and smartphone in some bundle by your towel? How safe is that? Not safe at all. So why not get a lockbox that you can attach to something a petty thief wouldn't drag with him, like a beach chair?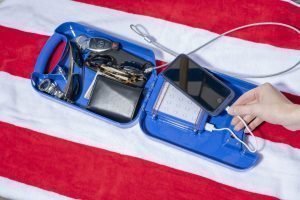 That is what the Beachsafe is, and it would be worth it if that was all it was. However, it has a battery in it so you can charge your devices with the two USB ports. Not only that, you can cool your device with a built-in fan. By the way, did I mention that the charger has a built-in solar panel? It does.
You should be able to purchase the Beachsafe here for a low price of $79.99 (marked down from $99.99) in Ocean Blue, Sunshine Yellow, Lime Green, and Oh So Orange.