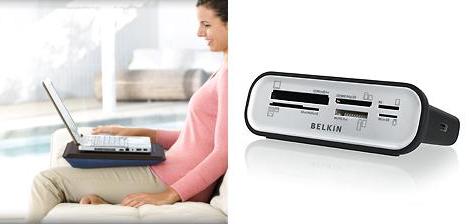 I had a chance to try out two of Belkin's products this weekend, the CushDesk and the Universal Media Reader. The Cushdesk is essentially a laptop rest for your lap, and it is about as technical as a crowbar. It says on the package Ease, Comfort, and Cool, and as Stan Lee would say: "'Nuff Said".
As for the Universal Media Reader, I had a little bit of a harder time getting it to work. It also had some things with it that I wouldn't call design flaws, but I probably wouldn't have designed it that way.
Anyway, you can read my full review on the products here.