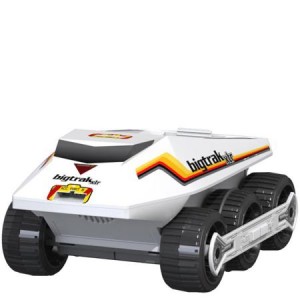 Isn't it amazing how anything that is a little popular sometime makes a comeback? Some of you might not remember the Bigtrak, but it was a programmable toy back in the eighties. It was released about 30 years ago, to be exact, in the magical land of old-school stand-up video games.
This version of the Bigtrak is an XTR (eXtra Technology Rover). In the old version, the Bigtrak had a keypad on top of the six-wheeled vehicle that you could program to move around the floor. You can now program the Bigtrak with an iDevice, and you can put stuff on the top and make it an advanced drink server.
I have no idea if the 1982 version had this, but you can update the new Bigtrak with a missile launcher or an IR gun. You can even put a wireless camera on it, making it even cooler.
I have a price on it of about £69.99, and I am not certain where you can get it.