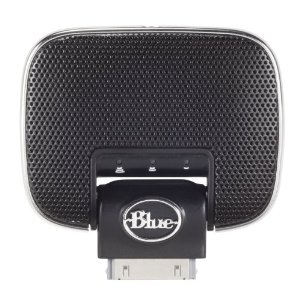 I have been covering Blue Microphones products for years, and I have always been impressed with their audio-capturing ability. I will readily admit that this is the third time I have reviewed one of their products that is called "Mikey".
This version is the Mikey Digital, and it is a microphone that is made for the iPhone/iPad with a built-in USB charging port. Now you might be thinking "big deal" as the new iPad does have a special microphone, as we previously explained when the 3rd generation was announced last March.
I had a chance to try out the Mikey Digital on the new iPad (not the Mini). I found that when the sensitivity was turned up, the Mikey Digital could pick up a sound of me lecturing across the room. Granted, the new iPad can do that, but the Mikey Digital makes the voice more distinct, and is a needed improvement should you use your iPad for voice recording ability.
You also might be thinking that the Mikey Digital has a now old-school 30-pin connector underneath, but you can get an adapter for that Lightning adapter. You can find it on sites like Amazon for about $94 as is. The Mikey Digital includes a carrying pouch for storage as well as an input jack for guitars, microphones, and any other device with a line-out. You can find out more information about it on the Blue Microphones site here.