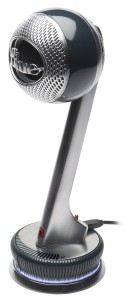 I am always interested in seeing what kind of products that Blue Microphones rolls out, and so I am always checking out their booth at CES. Last night at Showstoppers, I had a chance to see their new product, the Nessie, in person.
The Nessie has a USB cord that is good for the PC and Mac users, but it can be set up for mobile recording on the iPad as well. It uses a "custom-tuned condenser capsule" with a cardioid pattern. It has three flexible recording modes made for better vocals, and has a "zero-latency" headphone output for direct monitoring. You might notice how its head adjusts for "serpentine flexibility", and that is about the best word I can use to describe it, and it comes directly from the company.
You should be able to purchase the Nessie sometime this year for a price of $99.99.