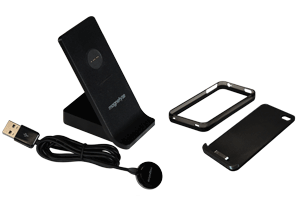 I have seen devices that charge the iPhone with the help of a little bit of magnetic magic, and one of the most well-known is the Powermat. The Magnetyze from BuQu Tech is similar, and it takes the whole charging via magnets a step further.
The similarity to the Powermat is it comes with a case for the iPhone 4/4S. The difference is that the case is one of those surrounding bumpers, and then something for the back of the iPhone 4/4S.
As you can see, it has the charging stand at an angle, so you can use the iPhone in a portrait or landscape view. The charging stand connects to the PC with a USB cord, and the Magnetyze also has a USB cord with a magnet for non-standing charging.
I have said before when I reviewed the Powermat that magnetic charging needs to be the standard for any cellular phone, but until that day, you might want to get yourself a device like the BuQu Magnetyze. If you want to get in on this, head to the BuQu website and lay down about $69.99 in colors of black or white.