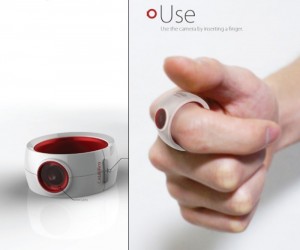 Remember those 60's spies like James Bond and Maxwell Smart who had cameras in all sorts of odd places? I think we used to be obsessed with hidden cameras in the days when we feared Big Brother, but now it seems like every mobile devices has a camera of at least a few pixels. There days, Hidden cameras are as useless as Get Smart's shoe-phone.
I remember seeing one James Bond film, A View to a Kill, where Roger Moore took pictures of someone with a simple ring. I can't remember if the prints were in color or black and white, but I can think of less discreet methods of taking pics in the real world.
If you still want to play spy, then you might want to look into this CAMER:ing. Too bad it is not made, at least not yet. Hey, who wouldn't want to take pics from their phone. Not only that, you can attach it to a tablet to view the pictures. Or, you could just take a picture on your cell phones and view it there.
Well, we'll see if this CAMER:ing ever becomes reality. I'm guessing no, but I like the name of this.