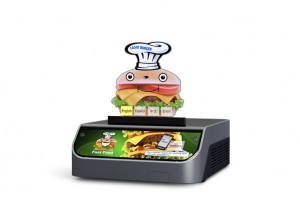 While attending CES, I decided on a whim to attend Casio's Press Conference. Unlike Samsung's meeting, there was actually room for seating. (More on Samsung later.)
I am so glad that I attended Casio's presentation. I'm sure that you are familiar with Casio, as the Japanese company had made a lot of cool products that have really revolutionized technology as we know it. Things like calculators, keyboards, digital watches, and digital cameras. Casio opened up their CES 2013 press conference with this fact, and then they spent the next half-hour talking about something new: their Digital Signage division.
Digital Signage is a funny thing. Imagine if someone took an image of you from the mirror, and then made it talk. Then they took it a step further and made it talk in other languages. Now, imagine that this image is at a shop, trying to tell you what is on sale that day. The mouth and eyes are moving in an almost Teddy Ruxpin like manner, and the text-to-speech vocal inflection completes the creepy.
This is seriously what Casio was putting forward as its best foot at CES 2013. I would have to say that I was really surprised, but I think it shows how Digital Signage is going to change the world. I can easily picture an age where one of Casio's Digital Signage images takes your order at a fast-food restaurant. You will note in the image that Casio can mold the image of the Digital Signage character into just about anything, like Mr. Hamburger guy here.
If this is the case, then Casio needs to make these Digital Signage things to be more lifelike. Right now, if I had to choose between this creepy digital image or a pimply-faced teenager with a bad attitude to man the drive-thru window, I will take the latter.
So, yes, I have seen the future, and it is Digital Signage. Okay, I don't think I want to see the future any more today.