Catalyst is a company that we have done many a review for. Our last review was of Samsung phone cases. Today, we'll go to the flip side and review cases for some Apple products.
Catalyst Impact Protection Case for iPhone 11 Pro Max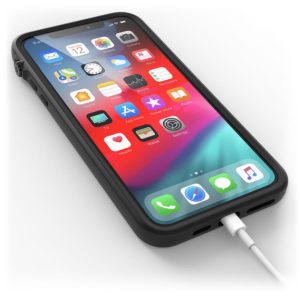 The Catalyst Impact Protection case is sturdy and has been tested along with their other cases for a 9.9 ft(3 m). It's still slim for wireless charging capabilities. A diamond-looking truss system lines the inside around the edges, which is what protects in those 9.9 ft. drops. So, your best bet will be to drop it on the corners only…  A wrist lanyard is included, so that should minimize the risk of dropping your phone altogether.
Made to block dust and debris from coming inside this case, you can find this one for the iPhone 11 Pro Max for $49.99. Or, you can get it for the iPhone 11, and 11 Pro for $39.99. This case has the color options of Black, Red, Blueridge/Sunset, or clear.
WATERPROOF CASE FOR 12.9″ iPAD PRO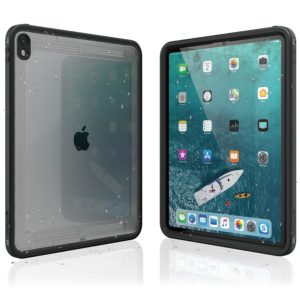 Maybe you want to take pictures with your iPad Pro underwater, or play on apps worry-free next to the pool? This would be a good investment for you! You can take your iPad to depths of 6.6 ft with this slim case that is easy to put on and take off! It also has Military Standard drop testing of 4 feet. A charging port opens up so that you can charge the iPad while in the case still. And sound acoustics are not affected, as there is a special acoustic membrane that allows the sound to come through. The ability to access the Touch ID works as well!
Available in red and black, this case also comes with an adjustable stand for your iPad if you need to prop it on something. It's also easy to carry on a lanyard, with 4 different attachment points. This one sells for $99.99. If you need something similar for your iPad Mini, Catalyst has you covered with the
Catalyst Waterproof Case for iPad Mini 5
This case is identical in feature and function to the one we just reviewed. It comes in the same colors, and even the same price. The only difference seems to be the size. You can purchase this one for $99.99 as well through this link.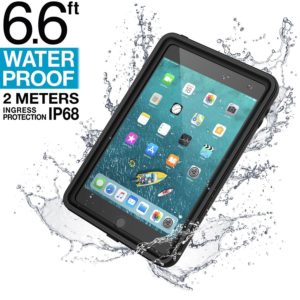 These cases were provided to us by Catalyst for free to review. No other compensation was given for our fair and unbiased analysis.