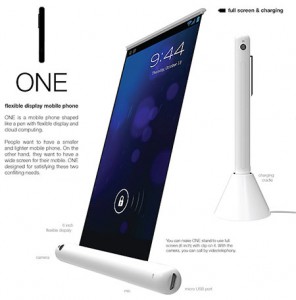 Every once in a while, I see some sort of concept technology that I can latch onto like a leech. The Samsung "One" smartphone pen is just enough to get my mouth watering.
First, it has a flexible display, which I know that we are going to see sometime. I don't know if it will be a touchscreen, and I don't know if it will stay out.
Since it has smartphone capability, it has a messaging capability. Think of it as the little messaging thing on the Android phone. It has the the time on it as well.
There is also a camera on it, and you can use the screen so you can see what the photo looks like. I am going to assume that it takes video as well as still photos, as it has a microphone. It also has a speaker.
It does everything but write! Yeah, that's right, it don't write. It reminds me of the cool tech watch in one of the Spy Kids movie that does everything but tell time.
Still, this could be the future of cell phones. I mean, they are getting smaller. Why not make them so they are the size of a pen? I hope Samsung has this on display at CES 2013, but I doubt it. I see tech like this that never sees the light of day. I'm going to check on this post ten years from now, and hopefully I will call all my friends and tell them that Samsung did something right.