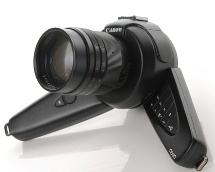 I really wish I could afford one of those fancy-schmancy DSLR cameras, and I really wish I could buy the NOVA DSLR.
Sadly, this NOVA DSLR is a concept by designer Erin Fong, and certainly breaks the mold when it comes to your typical DSLR design.
The handle of this thing is doubled up so that both hands can hold it steady. It can also fold up into one handle if that is how you want it.
Well, let's hope it sees the light of day. Until then, I'll give it the proper press that I can give it.