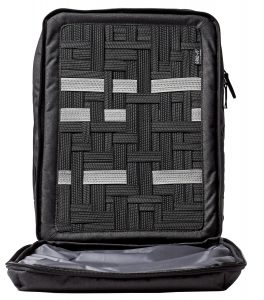 And now it is time to review another Cocoon Innovations product with the TECH 16-inch backpack. I will have to say that it is a small step up from the last product I reviewed, but that is good, right?
Oh yes, it is very good. In fact, I decided to show this particular image here for those who are unaware of what the GRID-IT system looks like. Those are those elastic straps I was talking about that hold your individual accessories, and that should make a lot of sense if it hadn't before.
Unlike the soft briefcase that I reviewed, this product is a backpack, and it can hold laptops up to 16 inches. It also has a dedicated iPad compartment, but it doesn't really have a furry lining or anything for it. The backpack does have a water-resistant ballistic nylon exterior, so I guess you can feel good about taking it in the rain.
You should be able to purchase the TECH 16-inch backpack for about $89.99 on the Cocoon Innovations site for $89.99.