Introduction (Does It Do What It Should)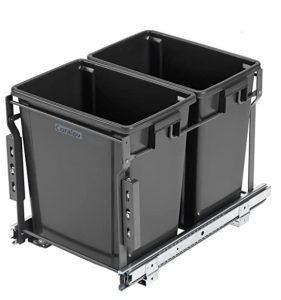 Okay, here's some really cool stuff going on with Coralov, as this is the second product from them that I am going to review. The last time was that Undersink Pull Out, and this one is quite similar.
I'm sure that a lot of people probably have two layers of trash that they deal with. You probably have a garbage can for garbage, and then recycling bin. What if you had them in one very convenient place.
This is precisely what the Cabinet Pull-Out Bins are, as you can just yank out your drawers (oh man, did that not come out right) when you need to throw something away. It is something that is pretty awesome, actually, because you don't have to deal with a garbage can exposed in the room. You know, kind of like a rich-person's kitchen!
So, I should probably talk about the assembly, because a little is required. Since this thing works like a drawer, I had some issues creating a rack that can pull out. Part of it was just figuring out how to get these things together, and I had to admit that the instructions were a little unclear on that point.
But I was able to overcome that, and had the initial assembly in a little under and hour, by "initial" I mean, what you see in the image here. I actually didn't put on the cross bars correctly, and had to redo them, as they couldn't hold the garbage cans correctly. I haven't even talked about how this thing is supposed to work.
At first, I was wondering how in the world this is supposed to fit in your drawer because most drawers can't really hold a garbage can of this size. No, this is designed to fit on a kitchen cabinet door that you can open.
Seriously, you are meant to take the hinge off your cabinet door, and then drill it to the front of this thing. Then, all you need to do is pull out the door instead of swinging it open.
I'm going to be honest and say that I'm not certain whether I can even install this in my kitchen, but perhaps the video will show me doing it just awesomely.
Facts About The Company
So, this is some company known as Coralov, and I have done searches for this company, and I found one, but I'm not finding any company that I am sure is the one who represents this particular product.
What Does This Company Make?
According to Amazon, who usually has some kind of link to other products related to it, has no real products showing.
Just the Specs, Man
If you're the type that needs this info, this section is for you!
Brand Coralov
Capacity 28 Quarts
Color Dark gray
Opening Mechanism Pull-Out
Material Stainless Steel
Recommended Uses For Product Pull out, slide out
Room Type Kitchen
Shape 28qt.
Finish Type Stainless steel
Special Feature: Hide your garbage and keep your kitchen looking neat, Under sink trash can, 8 gallon trash can, double trash can, Pull out trash can under cabinet, Pull out trash can, under the sink trash can hide your garbage and keep your kitchen looking neat, Under sink trash can, 8 gallon trash can, double trash can, Pull… See more
If there is something on this that I didn't cover, please let me know.
What Do the Reviews Say?
It's a solid good. On Amazon, it has 242 ratings that average out at 4.0. Over half of those were five star ratings, so I think that is quite good, really.
Okay, Get To The Unboxing Already!
Okay, I Like It, Just Give Me The Link So I Can Buy It Already!
Maybe I Want It, But Is There Anything Else Like It? Maybe For A Lower Price? Please?
I'm pretty certain that we have not reviewed anything like this before. I believe that I am going to review something else very similar here in a bit. I did say that last time, but it is quite true.