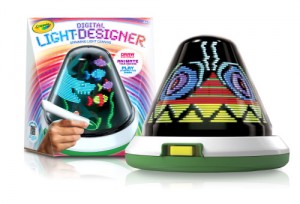 It is pretty difficult to describe the Crayola Digital Light Designer, as there is nothing much to compare it to. The Digital Light Designer is a cone-shaped thing that comes with a battery-powered light pen. You can then draw on the cone-shaped thing in many colors and do all sorts of things.
The Digital Light Designer has two lines on the bottom that you touch with the light-pen and brings up a main menu. From there, you can pick a color to draw with, the thickness of the line, and more. The best part is you can save your drawing in the Digital Light Designer itself, and I believe that you can store up to 50!
You can then take your drawings and make them spin on the cone, and there are other games you can do as well. There are also other activities like running through a maze, or driving a car through some obstacles.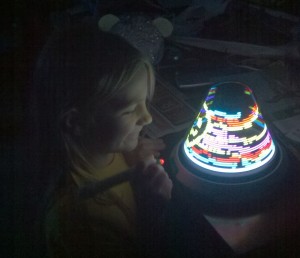 All in all, I will have to say that the Crayola Digital Light Designer is a delight for children. If you don't believe me, check out this picture of the Digital Light Designer and my daughter on the left.
I will have to say that there was only one drawback to the Digital Light Designer. It made a whirring sound that made it sound like a car that you don't want to run too long. I figured that your kids are not going to play with this for too long, so that sound won't last too long either.
You should be able to get the Crayola Digital Light Designer for about $39.99. The cone takes Four D batteries and two AAA batteries for the pen, and you can buy an AC cord for about $12.97. You can find out more information about it here.