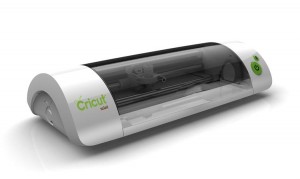 I want to start out by saying that Cricut Mini is not a product for everyone. It is designed for those who are into scrapbooking, as it is essentially an easy way to cut shapes in paper. By the way, it is pronounced "Cricket" like the insect, but I totally don't blame you if you pronounce it "Cry-Cut".
You might not think this is important, but many scrapbookers, and there are many, would disagree with you. Fortunately, my wife is a scrapbooker, and she found it very useful. One minute I'm in the room writing, and then she comes in with a personalized card.
She was able to place paper on this special sticky surface, then put it into the Cricut Mini to get a specialized shape. It certainly beats trying to cut around a special sheet with a pair of scissors. The user had access to over 500 free images and 40 project ideas. If you want more, there is a way to purchase digital images from the Cricut Craft Room.
The Cricut Mini is so named because bigger Cricut machines can operate on their own, but the Mini is designed to connect to one's own computer, so you can program you personalized cut-outs on cardstock, vinyl, vellum, fabric, chipboard, and even foil.
If you want to get in on this, head over to the Cricut site and order one for a special low price of $99.99.