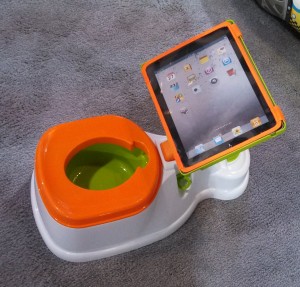 All right, I suppose that I have now seen iPad accessories for everything. I saw this at CES 2013 at CTA Digital's booth, who I believe is a company that is most famous for gaming accessories like the Wii Sniper Rifle.
I don't know about this, as I couldn't imagine someone using the iPad to potty train a kid. CTA Digital told me that this works with all apps, which can only mean that there are several apps for potty training.
Now, I don't know who gives their kid in potty training an iPad when they are on the pot, but this one has an adjustable stand that can be rotated 360 degrees. If you are a little worried about grimy mitts on the Apple tablet, you should know that this has a removable touchscreen.
Yeah, the iPotty could be the butt of any iPad Accessory joke, but I suppose that CTA is just trying to meet a certain demand. Right now, the iPotty doesn't appear on the CTA Digital site, so I can't give you a price.