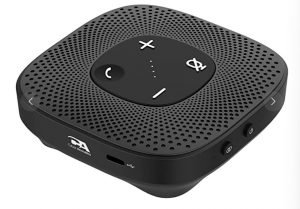 It's time to do another Cyber Acoustics products, and this time it is a speakerphone with the CA Essential Speakerphone.
So, I don't think I need to explain what a speakerphone is, but I'm pretty certain that the COVID-19 era has really helped sell them. It has some great 360 degree noise cancelling microphones for voice pickup from even far away (well, about 3 meters away).
The CA Essential Speakerphone is very multi-purpose as it has USB connectivity with a PC or Mac, and then it can do Bluetooth as well to your iPhone and Smartphone. Oh, you can switch them at the touch of a button.
So, the battery life is very great at 12 hours at 2/3 volume, and I've heard that the Bluetooth 5.0 range is 66 feet (crazy). You can check out the video that I did below, but I think I forgot to do a demonstration of the sound quality of it as a speaker.
If this is something that you are into, you can purchase the CA Essential Speakerphone on the Cyber Acoustics website for $69.99.