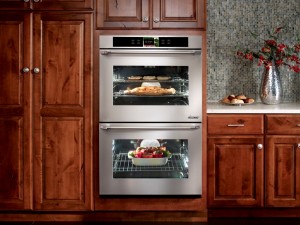 While I was at CES Unveiled, I got a chance to see Dacor, a company that has created innovations like the 30-inch Self-Cleaning Pure Convection Wall Oven, has created an oven with Wi-Fi Connectivity.
That's right, it is an oven that can be controlled remotely, and it runs on the Android OS. It is powered by a Samsung 1GHz Processor 512MB DDR2 RAM, and the user, or "chef", takes control of the oven with a 7-inch touchscreen.
Since it has access to the Google Play store, the user can access all sorts of apps, and can even access recipes. You can even set up a program for cooking a certain dish, which will send you a text when it is done. Yes, this is convenient, and if you want to watch a video in the kitchen, the oven has stereo speakers.
In case you are wondering if you can preheat the oven from a distance, you like from an Android phone, it isn't allowed. Yeah, that is a safety feature.
You can get the 30-inch Double Wall oven for $7499 or Single Wall Oven for $4499 in the Spring of 2013.